4260-6 500KV Outrunner Brushless Motor
Use up to 1350 Watts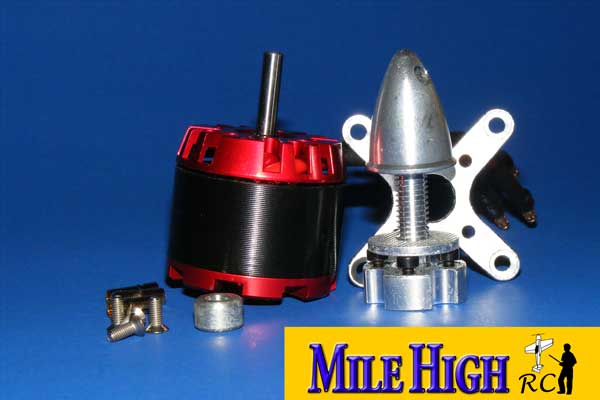 Run this motor on 3-7 cell lipos and match it with an ESC of 45-60 Amp capacity. The motor comes as photo with bullet connectors pre-installed, the female connectors for the ESC are included as well. The 5mm shaft is replaceable. Mount in front of or behind firewall.
Motor is rate at 1350 Watts max, when propped for 1350 watts use this motor on 3D birds in the 6 - 7.5 pound range or general flight on birds up to 13 pounds.
N4260/6


Battery: 3-7 cells Li-Po (most users run 4-6 cell)
Kv (Rpm / V): 500
Weight: 9.8 oz. (280g)

Size: 42.5 x 60mm
Resistance (MΩ): 23
No load current: 4.3A
Turns: 6
Power: 1350W
ESC: 45A -60A
Suggested props: 15 x 8 through 16 x 10

N4260/6 500KV

$38.63
As we do with all new outrunners we are offering a buy back for video or test stand thrust data.
Accessory Set for 40 Series Outrunners $5.00

Replacement shafts N4260

$3.85