Yak 54 50E
$189 - We will ship Via UPS
Factory is out of stock. Will have more in-stock from the next production run (Date TBD). We will not be taking deposits until we know when we can deliver them to you, sorry.
Made by Gold Wing RC the same company who brings you the awesome gas kits the yak 54 50E is sure to please. Look for our review and very comprehensive build log coming soon. In the mean time check out the build photos below.
YAK 54 50E

WING SPAN: 57" (1450mm)
LENGTH: 53" (1350mm)
WING AREA: 646sq.in. (41.7sq.dm.)
FLYING WEIGHT: 4.6-5.3lbs (2100-2400g)
BRUSHLESS MOTOR: 4-cell 4250-7 APC14x7-E ~ 5-cell 5055-8 APC 15x7
LI-POLY: 4S-5S 3700-5000mAh
Glow: .46-.52 2C .52-.82 4C
RADIO: 4CH / 5Servos (Glow) or 4CH 4 Servos / 60 Amp ESC (Electric)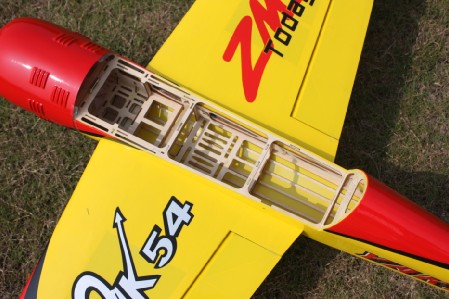 Features:
- Latest structure
- Light weight construction with high structural strength
- Super quality
- Excellent aerobatics and 3D performance
- Easy installation
- Two pieces removable wings via nylon bolts
- High performance hardware includes:
Ball linkage control system
Fiberglass long servo arms
Servo extension safety connector clips
- Low wing loading makes it easy to fly
- 6061 T-6 Anodized Aluminum landing gear
- Carbon fiber wing tube
- Aerofoil tail wings
- Powered by Electric or Glow
---
Lets build one
Download the Manual Here
Page may be slow to load we have a lot of pictures on this page. Pictures are in no Specific order just photos we took as we built. We will add comments here and their as we get closer to the next production run.
Control Horns and Pull Pull Cable, Ball links, control rods, and Pull Pull items, CA Hinges
Nice Wheels, Servo Safety Clips, Wing Retaining Bolts, Tail Wheel items, Screws, Blind Nuts Etc....
Take a look at the wings and wing construction.
Simple Control Horn Instillation
Some Parts
A look at Airframe Construction
If needed work the Jointer on your flat work table so that both elevator half's are straight. Mark one side of the joiner to keep in on the correct side. If joiner needs tweaked and it is installed backwards elevator half's will not be in alignment. Install the elevator joiner before stab is glued in to position.
A note on servos: This airframe is made to take standard size servos. With exception of the elevator servo. But it is pre notched so a standard servo can be used. We used HS 225 servos for this kit and made the minor mods needed to assure a secure servo mount.
At this point we are 41.2 ounces. No electronics are installed.
Note: We resisted our temptation to mount our motor with stand off's or a cage type outrunner mount, even after we dropped our motor box and took a chunk out of it. We wanted to test the stock items, so far so good. But as you look at our photos pleas keep in mind our motor box is intentionally made to be temporary. The Included motor box should probably be mounted with the supplied angle balsa, at the firewall and maybe at the outrunner mounting firewall as well. It would not be a bad idea to glue the supplied box to the firewall. We did not do this on our test bird as we most likely will try this model as a glow version as well.
One other mod we did. Since the model is made for Electric or Glow the canopy's installed using screws. We installed a canopy latch in ours (found here).
Finished weight with stock components and a 9.5 ounce outrunner is 62.3 ounces (plus the battery). We will also try a lighter set up that will put us right around 59 ounces (plus battery). At right around 5 pounds a 1000 Watt system should make for a great performing aircraft.
We had a ton more pictures but we seem to have lost our 2nd SD card for the camera (yes we took that many). We will post more photos as well as flight impressions, and flight video as time allows.
So first few flights we great it is a great flying bird. Last few flights also were great but in a stiff wind (about 20) this baby becomes slick and getting it down smooth is a not quite a chore but not as un eventful as in calm wind (see video). Other then that this one is a winner and allot of fun. This video is a ride along looking back and down. It is also the same flight as the video below. I should also mention she is pretty tough. The loosely installed motor box is quite strong. I let one of the guy at the field fly this bird and it had a not so good landing. The result was the tops of the prop got knocked off, everything else was 100% in good shape, even the loosely installed motor box.
Locals this plane is for sale. Drop a line and make an offer.